[row]
[col span="1/1″]
[ux_banner height="500px" bg="https://mercedes-benz-club.co.uk/wp-content/uploads/2021/04/banner-image-1280×500-09.jpg" text_color="dark" animated="fadeIn" text_width="60%" parallax="0″ parallax_text="0″]
[/ux_banner]
[/col]
[/row]
[section parallax="0″ parallax_text="0″ bg="#ffffff" class="members_benefits" img_width="50%"]
[row class="pad_150″]
[col span="1/1″]
Our Heritage and Club History
[gap height="30px"]
[/col]
[/row]
[row]
[col span="1/1″]
Early days
---
The Mercedes-Benz Club was founded in 1952.
[/col]
[col span="1/2″]
As such it was the first Mercedes-Benz Club in the world. Its founding was mainly due to the enthusiasm and efforts of one man – Ronald H Johnson (1913 – 1973). By profession Johnson was a marine architect, but he was also an avid motorist and a long-time enthusiast of Mercedes-Benz cars.
Ronald Johnson bought his first Mercedes, a 1930 38/250 SS, after the war – and from then on there was never a time when he did not own one of his preferred marque. In 1948 Johnson – with other like-minded enthusiasts – formed the Mercedes-Benz Register – with Edward L Meyer (a man who owned 115 Mercedes cars during his lifetime) as its Patron.
Over the next few years some 50 pre-war Mercedes and Benz cars had been enrolled in the Register. In June 1952 the Mercedes-Benz Register organised its inaugural meeting at the Berystede Hotel in Ascot, to which members and their friends were invited.
[/col]
[col span="1/2″]
The event was well attended with 33 members of the Register and 11 guests present. Those attending brought along a wide range pre-war cars and the event was reported on by Autosport Magazine. Daimler-Benz also sent a telegram from Germany wishing the Register every success.
Amongst those attending were many well-known Mercedes-Benz enthusiasts including Mrs Helen Lee Kennard, George Monkhouse, who was effectively 'team photographer' for the 1930's 'Silver Arrows' Mercedes-Benz Grand Prix team and David 'Bunty' Scott-Montcrieff, motor dealer and author of the marque history 'Three Pointed Star', as well as a representative from Mercedes-Benz (GB) Ltd.
Johnson, as Register secretary, gave the welcome address, in which he told those present that the Register strength was 60 members. He said that plans were being formulated to develop the Register into a Mercedes-Benz Club – and that a committee would soon be formed to expedite this move.
[/col]
[/row]
[row]
[col span="1/1″]
[gap height="30px"]
[/col]
[/row]
[row]
[col span="1/2″ animate="fadeInUp"]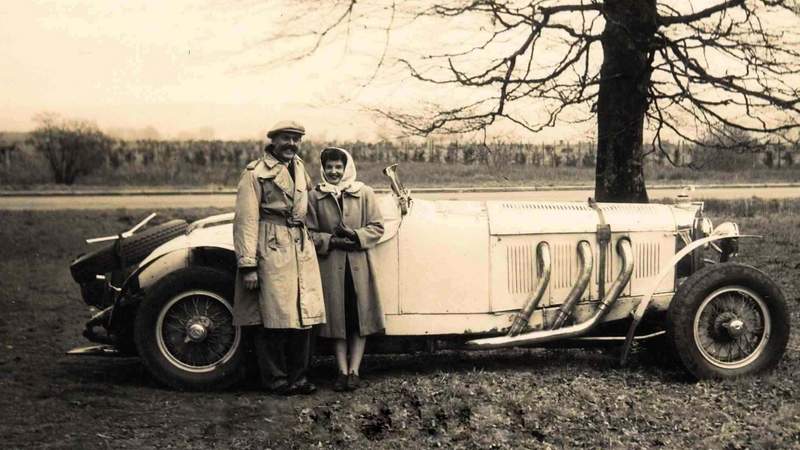 Ronald Johnson and his wife Barbara 38 250 in 1950
[/col]
[col span="1/2″]
Swift progress
---
The Ascot meeting's success saw swift progress towards the formation of the Club.
A meeting was held in July 1952 at Mrs Lee Kennard's London home where a committee was elected to run the new Mercedes-Benz Club. Ronald Johnson took on the roles of secretary, treasurer, social secretary and Gazette editor. Pre-war racing driver Earl Howe and Edward Meyer were approached and agreed to be Patrons and George Monkhouse agreed to be President. At the July meeting it was agreed that the new Club would:
– serve the interests of owners of Mercedes-Benz (including Canstatt Daimler, Mercedes and Benz cars)
– represent the marque in contemporary motoring circles
– incorporate the work and financial liabilities of the existing Mercedes-Benz Register in compiling records of all examples known to exist
– collate all relevant literary records of materials concerning the history of cars from every aspect
[/col]
[/row]
[row]
[col span="1/1″]
[gap height="30px"]
[/col]
[/row]
[row class="flex_reverse_mob"]
[col span="1/2″]
Recognition
---
The Mercedes-Benz Club's long and harmonious relationship with Mercedes-Benz began at its first meeting.
Mr E Deane, from Mercedes-Benz (GB) Ltd, became an advisory member of the Club's committee. One of his early tasks on the Club's behalf was to approach Rudi Uhlenhaut as to which drivers and engineers should become Honorary Members.
Events proceeded apace thereafter – with the first issue of the Club's Gazette appearing in August. Permission was also received from Daimler-Benz AG to use the Mercedes-Benz star logo – and, uniquely its traditional maroon background. The use of the maroon logo background is still, more than 60 years later, unique to The Mercedes-Benz Club.
[/col]
[col span="1/2″ animate="fadeInUp"]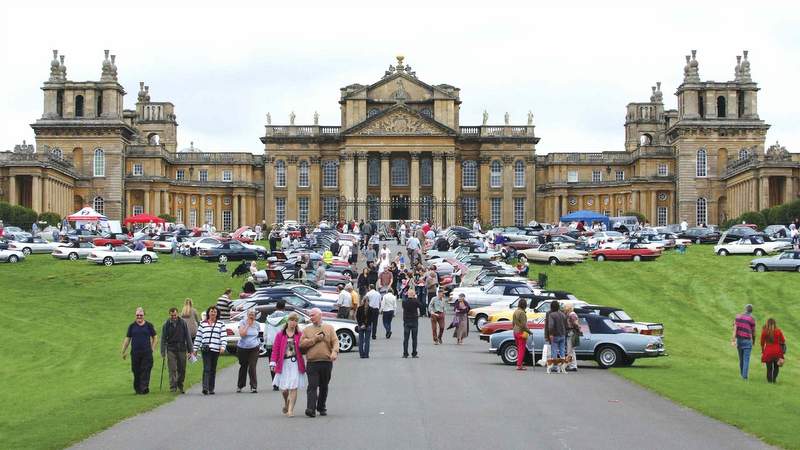 Blenheim Palace
[/col]
[row]
[col span="1/1″]
[gap height="30px"]
[/col]
[/row]
[row]
[col span="1/2″]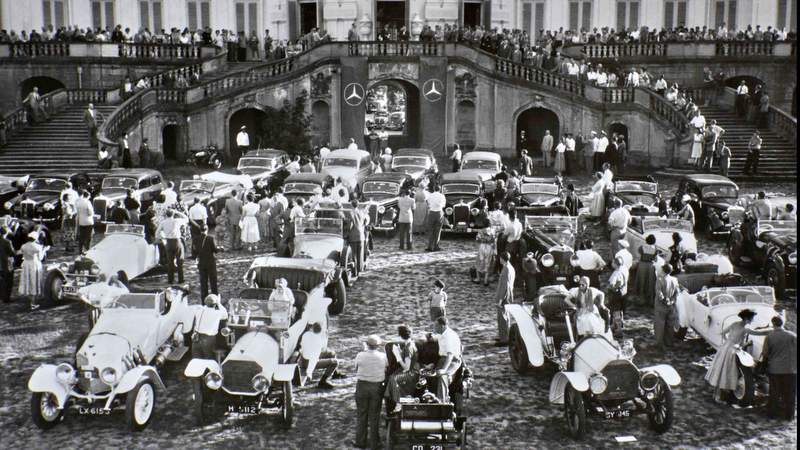 [/col]
[col span="1/2″]
High flyers
---
Club's flying start the Club
Right from its inception the Club attracted distinguished women and men as members – such as Helen Lee Kennard, a well-known socialite, Miss Margaret J M c Clellan, Vice-Consul of the US Embassy in London, Sir Peter Ustinov CBE, FRSA, King Fiasal II of Iraq and Prince Abhas Bhanubandh, from Thailand's royal family. Initially these high-achieving members came not only from the UK but, thanks to the Club being the first of its type in the world, also from Europe, America, the Commonwealth and many other far-flung parts of the globe.
After its flying start the Club maintained the interest of its existing members and attracted a steady stream of new members with an active programme of meetings. As well as social events the Club organised film shows, talks and concours competitions. But, a bigger Club event was afoot.
[/col]
[row]
[col span="1/1″]
[gap height="30px"]
[/col]
[/row]
[row class="flex_reverse_mob"]
[col span="1/2″]
Today
---
Going from strength to strength
Since then The Mercedes-Benz Club has gone from strength to strength. In 2000 the Club Gazette has been published monthly, providing members with a wide range of regional event reports, historic features, technical advice and a vigorous correspondence column.
Along the way Club has celebrated its 60th anniversary in 2012 – and developed an unrivalled level of regional activities and events. This is a reflection on the Mercedes-Benz Club's efforts of its huge network of inspired and committed local volunteers.
In addition the Club organises a number national events, such as concours, individual model gatherings, European rallies and – of course – its major annual presence at the NEC's Classic Car Show. Also, every year, coach loads of Club members visit Europe's largest classic car show, the Techno-Classica, in Essen.
> Become a member
> Member benefits.
> Club events
[/col]
[col span="1/2″ animate="fadeInUp"]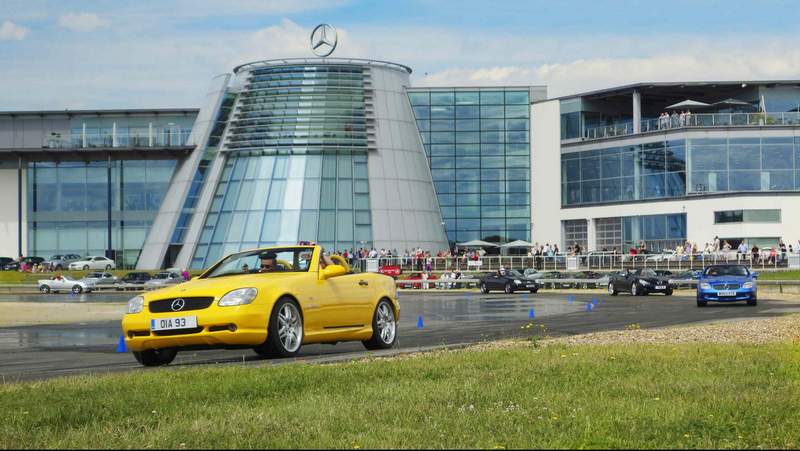 SLK day – 2014. Club members cars on the track at Mercedes-Benz World, Brooklands.
[/col]
[/row]
[/section]